PAGE VIEW : 1,259
Product Information :
Name :
Force Check KM6350 KM10080
Category :
เครื่องจักร, อุปกรณ์เกี่ยวกับเครื่องจักร, เครื่องมือกล
Sub - Category :
TAC Rockford for machine Tools
Model :
Force Check KM6350 KM10080
Product Type :
สินค้า, ผลิตภัณฑ์
Short Description :
Force Check KM6350 KM10080 Measuring bars, complete sets, and base units for measuring drawbar force on a Kennametal KM spindle.
Product Detail :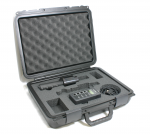 Wireless measuring adapters have the option of coming with or without the tool change groove. Wireless adapters can be retrofitted for quick inspection or designed for integrated use; ask us more for details.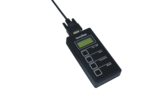 The display is universal and can be used on multiple ForceCheck adapters.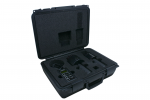 Sets include display readout unit, connecting cable for wired unit, and carrying case. Measuring bars, adapters, and other accessories are ordered separately.
Depending on what gauges you need to keep together, TAC Rockford offers various carrying case configurations.