Product Detail :
Adjusta-Point Live Centers
Live Center Applications
Riten Adjusta-point live centers are designed specifically for applications where the ability to radially offset the part is essential. The center point locates in the center hole centering the part. Four external adjusting screws are located in the body of the live center. The center point can be offset as much as .030" in any direction by adjusting the screws. The process is similar to indicating the part using a 4-Jaw chuck without the problem of chuck jaws masking the part.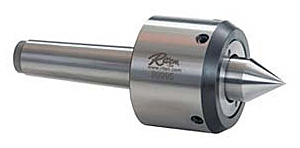 Live Center Availability
Adjusta-Point live centers are available from stock in Morse tapers and standard point configurations. Tracer point and custom configurations can be designed using our online design tool or by discussing your application with one of our product specialists.
Live Center Technical Specifications
The bearing design utilizes a large bore, precision, double row angular contact ball bearing. The bearing housing is manufactured from low carbon steel and case hardened. The point and taper shank are manufactured from 52100 ball bearing steel and through hardened to provide the maximum strength and durability needed in a live center.
Live Center Repair
Standard adjusta-point live centers will be rebuilt to "Like New" condition for 40% of the cost of a new tool. This is a total reconditioning of the entire live center. The shell is inspected for damage and the taper shank is reground as needed. The bearings, seals and spindle are replaced with new components and the live center is returned to its original accuracy. Every repair receives the identical factory warranty as that of a new live center.
In the unlikely event that your live center is beyond repair, Riten offers a preferred customer trade-in allowance of up to 35% on the purchase of an equivalent live center. Every Riten live center, no matter its condition, is eligible for trade-in. Repairs can be returned through your local Riten distributor or sent direct to the factory.