PAGE VIEW : 3,463
Product Information :
Name :
Replaceable Bell Head Live Centers
Category :
เครื่องจักร, อุปกรณ์เกี่ยวกับเครื่องจักร, เครื่องมือกล
Model :
Replaceable Bell Head Live Centers
Product Type :
สินค้า, ผลิตภัณฑ์
Short Description :
Replaceable Bell Head Live Centers
Product Detail :
Replaceable Bell Head Live Centers
Live Center Applications
Riten replaceable bell head live centers combine the weight carrying capacity of our Heavy Duty Live Centers with the flexibility of a replaceable bell head. They are ideally suited for families of large bore parts whose center hole sizes vary dramatically. The replaceable bell heads can center parts with bore sizes ranging from 3.33" – 13.50". Custom bell heads are available upon request. The replaceable bell heads also fit our Replaceable Bell Head Dead Centers.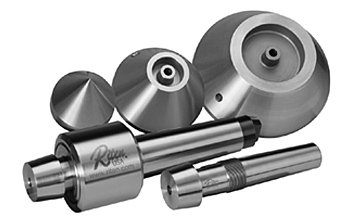 Live Center Availability
Replaceable bell head live centers are available from stock in Morse tapers. Other tapers can be designed by discussing your application with one of our product specialists. Replaceable bell heads are also available from stock.
Live Center Technical Specifications
The heavy duty bearing configuration utilizes three, large bore, matched angular contact bearings. Our large inventory of precision bearings are graded and matched for size to insure the proper bearing fit. Both the front and rear bearing bores are ground in one operation through a process unique to Riten Industries. As a result, bearing bores are both concentric and coaxial with the Morse taper. Proper bearing alignment and fit are key to providing an accurate live center capable of holding extreme weights.
The shell and spindle are manufactured from low carbon steel and case hardened to provide the maximum strength and durability. The spindle point has a proprietary 1:10 taper to allow the interchangeability of the bell heads. Consult a product specialist for additional information.
Live Center Repair
Standard bell head live centers will be rebuilt to "Like New" condition for 40% of the cost of a new tool. This is a total reconditioning of the entire live center. The shell is inspected for damage and the taper shank is reground as needed. The bearings, seals and spindle are replaced with new components and the live center is returned to its original accuracy. Every repair receives the identical factory warranty as that of a new live center.
In the unlikely event that your live center is beyond repair, Riten offers a preferred customer trade-in allowance of up to 35% on the purchase of an equivalent live center. Every Riten live center, no matter its condition, is eligible for trade-in. Repairs can be returned through your local Riten distributor or sent direct to the factory.